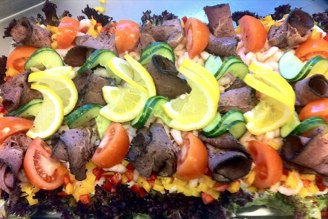 What is more festive than a lovely Swedish sandwich cake! You can choose from many different ingredients and toppings, and thus create your own individual sandwich cake. Do you have business visitors from abroad? Then the sandwich cake is a good choice because it is so typically Swedish.
Minimum order is 20 pieces. Choose any filling and topping.
Price per piece 65:-

12% VAT is added to all prices.
Liver paste, sour cream, pickled cucumber
Smoked ham, cream cheese and herbs
Eggs, leeks, mayonnaise and sour cream
Skagen on fresh shrimps
Creme fraiche and herbs
Sun dried tomatoes, cream cheese and sour cream
Grilled peppers, cream cheese and sour cream
Roast beef, pickles, mayonnaise and curry
Chicken, feta cheese, creme fraiche and sour cream
Cheese and ham
Cheese, ham and roast beef
Cheese, turkey and roast beef
Salmon, fresh shrimps and egg
Salmon, crayfish, fresh shrimps and egg
Cheese, egg and grilled vegetables
Fresh shrimps, egg and turkey